Went to see Harry Potter on Saturday at Tiong Bahru Plaza(why? Cos all the other cinema around evening time slots were all almost full! And TBP one offer the best seats when I booked online on friday)
SO meet xiaomei at Central with Aiyaa (xiaomei off work at 3pm)... then we all went over to Tiong Bahru Plaze for dinner before movie.
We had Sakae Sushi (DOn't like the service.. very slow and I think the waiters and waiteress pretent not to see us by running around doing nothing!!! lolx
We took some goofy photo while waiting for our foods... yes we waited for so long!! lolx

We were playing around!! lolx... we are doing the 3 wise monkeys!


xiaomei bring her doll to movie!!!



sista love... nice but blurry =(



aiyaa and xiaomei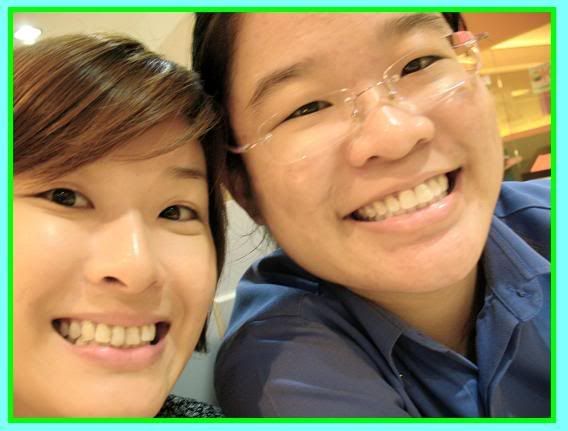 We sees you....


Walk walk around TBP before heading to the cinema for some HP loves! lolx.... It almost full.. luckily we got our tickets early! lolx....
Harry Potter and the Half-Blood Prince
Hmm.... I don't really like or dislike this movie... talk too much and abit too random! And with the title called
"Half-blood prince"
... it tell so little about it!!
And towards the end.. when Harry use one of the "Half Blood Prince" spells on "not telling you who"... his just snap back saying... "trying to use my spell on me, I'm the half blood prince"! Just like that without any more explaintation!!!! HUH?!?!?!
And we learn so little about Tom Riddle... which I heard that this movie are all about learning the Voldemort's pass!!! Maybe we get more answers on the next movie(which would be release on 2010 and 2011(they break the last book into 2 movies!)
But I do find that this movie was funnier then the pass 5 movies! lolx especially Dumbledore(the ending was so sad though)!
Anyway... I don't mine watching it... if I didn't I will keep thinking about it! lolx.. now I can relax and really enjoying those actions and horror movies that are coming soon!!!!! YEah!
Oh... on good side note::
I didn't buy anything except ELLE magazine ^__^ Yeah on starting to spend less money plan!!! lolx